Proposed New Jersey Amendment to "Authorize Persons Serving Overseas in Military to be Married or Enter into Civil Union by Video Conference or Other Electronic Means"
Tags: law, officiants, military, new-jersey, wedding-officiants, legislation, technology, marriage-law, local-wedding-requirements, unconventional, wedding, regulations, news
Published: Wednesday, Jan. 22nd, 2020
Lawmakers in New Jersey have proposed an amendment regarding marriage by proxy. But don't worry – this revision will be a good one!
Legislation sponsored by Assemblyman Ronald Dancer includes an update to current New Jersey marriage law, which could soon "authorize persons serving overseas in military to be married or enter into civil union by video conference or other electronic means."
What does this mean, exactly?
First of all, this general scenario – when one or more persons getting married is not present – is called a marriage by proxy.
Marriages by proxy are already permitted in the state of New Jersey for active duty military personnel, where current law requires that the absent person has to be physically represented at the ceremony by a power-of-attorney. However, if approved, "this bill would authorize a marriage or civil union by telephone, video conference, or other electronic means which allows viewing by webcam for persons in the military stationed overseas and unable to appear."
Simply put, this means that active duty military serving overseas will be able to say "I do" via Skype, FaceTime, or regular old speakerphone.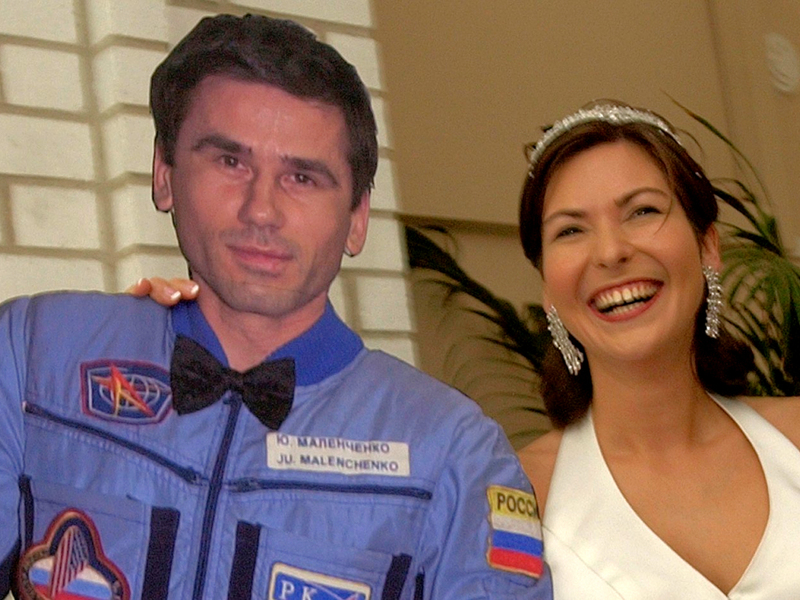 A perfect example of a marriage by proxy is Yuri Malenchenko's satellite-beamed ceremony when he married Ekaterina Dmitriev in a broadcast over a teleconference screen while serving aboard the International Space Station in 2003.
Why is this important?
This amendment is noteworthy for two reasons:
1. Deployments, frequent absences with little or no communication, and constant moves make it especially difficult for those in the military to plan a wedding and arrange their subsequent legal benefits. This amendment would make life a little less stressful for our service members and their loved ones by offering an immediate sense of security and peace of mind while they await their homecoming and reunion as newlyweds.

2. Very few states allow marriage by proxy to begin with. At present, weddings by proxy are permitted in California (for military only), Colorado, Montana, New Jersey (for military only), and Texas (for military only). Each state has different stipulations and regulations regarding marriages by proxy, and most of them restrict proxy marriages to members of the armed forces and those with extenuating health issues. For this reason, it is always recommended to consult a lawyer specializing in family law in the state where the marriage by proxy will be taking place.
Here at American Marriage Ministries we're heartened to see New Jersey utilizing the benefits of technology to continue making marriage possible for all -- and especially for those serving our country.
◀︎ Previous Article: A Catholic Ordination Controversy Underscores t...
Next Article: Is Virginia about to get rid of its discriminat... ▶