Asked to Officiate: Your Guide to Performing Marriage
Have you been asked to officiate, and even though you're excited, you're not sure where to start?
Or – are you embarking on a new passion or career path in performing weddings, and looking for an all-in-one inclusive guide?
Fear not! Asked to Officiate – one of our most popular resources – is here to help.
…but what makes Asked to Officiate so special? To start, it is one of the few hands-on, step-by-step guidebooks to officiating wedding ceremonies and learning public speaking. It was originally written by expert and professional wedding officiant Bethel Nathan of Ceremonies by Bethel - who's performed nearly one thousand ceremonies(!).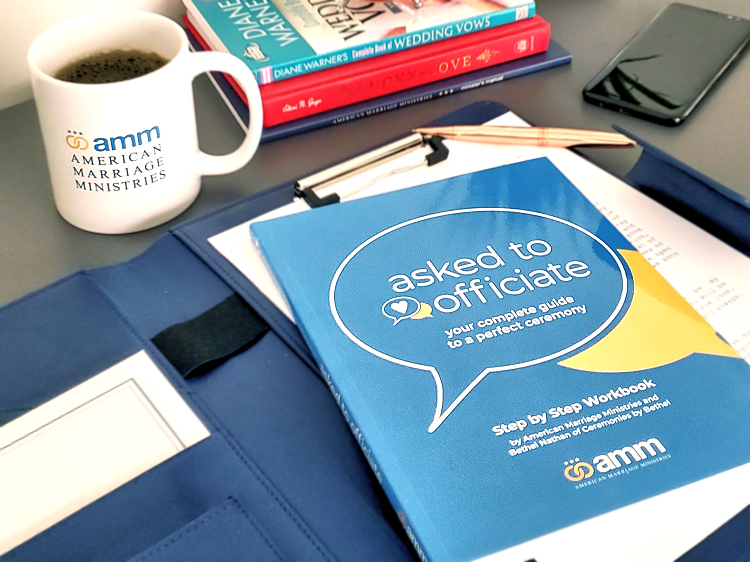 American Marriage Ministries acquired the rights and then made significant updates to the workbook, officially making it the most comprehensive, detailed, unique, and helpful books of its kind on the market. Asked to Officiate will:

● Give you the rundown on the schedule, timing, participants, and order of a typical ceremony
● Prepare you for all of your legal obligations – including state registration (if applicable)
● Help you work with the couple to craft their ceremony
● Supply a variety of pre-selected ceremony scripts that you can alter to suit your needs, or simply copy and paste
● Give you confidence to successfully create and deliver a meaningful, memorable ceremony

From writing the ceremony, managing its logistics, to making it legal – we've got you covered as an officiant with Asked to Officiate!
---
Asked to Officiate is available in our store with free shipping!
◀︎ Previous Article: Why Every Wedding Planner Should Get Ordained (...
Next Article: My Friends Asked Me to Officiate their Wedding ... ▶