You Only Get One Shot at a Wedding Ceremony… Be Prepared!
You're probably thinking, "Jeez AMM, isn't officiating weddings stressful enough? Why are you dialing up the pressure even more?"
Don't worry, folks! We aren't trying to stress anyone out here. Quite the opposite, we're eliminating stress by frontloading this one important fact -- wedding ceremonies are a big deal, and the only way to eliminate stress is to be prepared. That in turn, requires a clear understanding of what's at stake, and guess what… it's a lot!
As we all have learned, probably from not being prepared enough ourselves, the first few times you do anything, it's always a good idea to be over prepared. Now, let's take that notion one step further and talk about something you only get one shot at… a wedding ceremony.
Eliminate stress by focusing on problem areas early... what needs practice?
If you have never been an officiant before, or even if you have one or two weddings under your belt, being over prepared will allow you to create a stress-free environment for the couple and yourself. That, folks, is how you create those perfect moments!
Part of the Officiant's job is to start the ceremony planning early. You want everything in place before you start practicing the ceremony. Even if the couple is writing some or all of the ceremony, the officiant should still be following up, and making sure that the ceremony is being prepared on a certain timeline. That way, they will have the proper amount of time to practice and make revisions.
We've heard stories of the ceremony not being completed until a day or two before the wedding. If you think about it, that scenario allows the friend, family member, or new officiant very little time to practice, adjust, and perfect the wedding ceremony.

This is what it looks like when everyone is prepared, and in the moment...
If you have ever given a speech unprepared, you know that there are usually two outcomes: 1) There isn't time to memorize, so you read the entire thing, which means less emotion from -- and thus impact -- in the words you are saying, or 2) you decide to ad-lib much of the speech, which means that you misspeak, forget important parts of speech, or worse yet, you say something inappropriate.
That can't happen at a wedding ceremony!
We get it. The wedding is the couple's "Big Day" and you don't want to bother them. Do it anyway. If you are in doubt, remember that this is a wedding ceremony, which means that you, and the couple, only get one shot at it.
If you need a roadmap, we've got you covered as well. Last year, we released the new, improved version of our bestselling book Asked to Officiate. This priceless tool will walk you through every step of the process of creating and delivering a wedding ceremony. Take the stress and uncertainty out of the process, and focus on being insipred!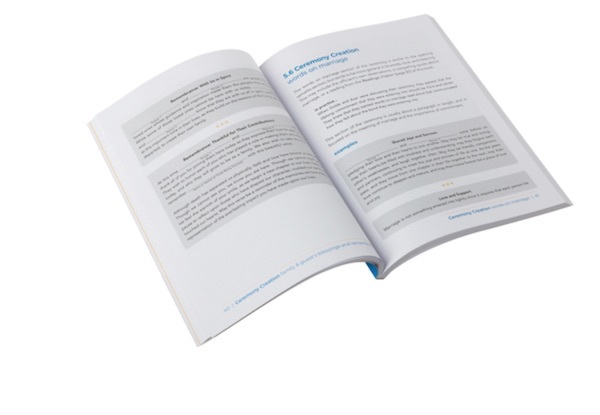 ◀︎ Previous Article: Making it Click: 4 Ways An Officiant Can Make t...
Next Article: 3 Reasons Why Couples Choose Friends & Family t... ▶