3 Reasons Why Couples Choose Friends & Family to Officiate Weddings
We often find ourselves in conversations with professional officiants, and the following question comes up: "Why has it become so popular for couples to ask a friend or family member to perform their wedding ceremony?"
That might sound like an easy question to answer, but the reality is, this trend is part of a wider social change that is taking place in this country. We're all carving out our own path in life, and that includes creating our own moments on our own terms… especially weddings. So in a sense, the explanation is deeply personal.
That said, it's worth covering some of the reasons, because we want couples (and ministers of course) to realize that choosing your own path is empowering. We're here to help!
From talking to couples, and the friends/family members being asked, it often comes down to these 3 main reasons… and sometimes it is just one of the reasons, and sometimes, it is a combination of the reasons.
This couple asked their college professor to officiate their wedding and it was magical!
1. The couple can't find, or doesn't even know how to go about finding, an Officiant that will fit who they are as a couple and what they want from their ceremony. Many couples getting married are non-religious, or inter-faith, or "spiritual-but-not-religious," or some combination thereof. In cases like this, there's no organization or religion that they can reach out to. That's why they start looking inside their own circle of friends and family.
It could also be that they want a "fun ceremony" and having never seen a professional Officiant do a "fun ceremony," they don't know who to go to and if it is even possible. To add to the confusion, most professional Officiants have, even if they are not very religious, the title of "Reverend" or "Pastor" which to young couples, doesn't sound very fun.
It's worth mentioning that most professional wedding officiants are total rockstars, who can deliver ceremonies that range from downright goofy, to formal and religious. Our position here at AMM, is that there's a perfect officiant for every couple, so do your homework.
2. Some couples choose a friend of family member to officiate because they want their ceremony to be personal and they feel that a friend or family member who knows them will give them a much more personal and fitting ceremony. It's worth noting here that even if that friend or family member has a long relationship with the couple, they probably still need help creating a wedding ceremony that's personal. That's why it's important that new officiants are coached on how to avoid making the ceremony embarrassing to the couple and uncomfortable for the guests. Avoid the cringe factor at all costs!
3. The couple wants to save money. A friend or family member is free. When working with a small budget, that's pretty appealing. And to be honest, a friend or family member who is willing to use our ceremony workbook can deliver a more personalized and memorable ceremony than most professional officiants.
We're not trying to say one option is better than the other. It really depends on the couple. There are great professional wedding officiants out there to fit almost any style. But you have to be willing to start the search early and take the time to find one that fits… and be willing to pay what their services are worth.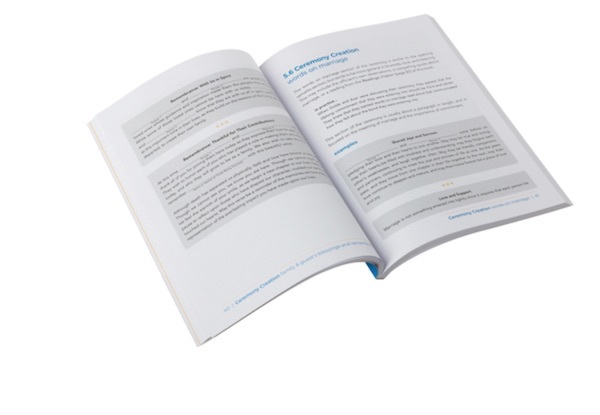 Asked to Officiate, AMM's popular guide to officiating weddings...
If you want to go with a friend or family member, just make sure you give them the right tools, like our Asked to Officiate workbook. This popular book provides a complete roadmap for first-time wedding officiants, from planning to delivery. It will reduce their stress, and yours, while helping them create and deliver a beautiful and meaningful wedding ceremony.
◀︎ Previous Article: You Only Get One Shot at a Wedding Ceremony… Be...
Next Article: Putting Yourself Out There, Pt. 1: How to Build... ▶