Start & End Well - Opening & Closing Words in a Wedding Ceremony
In our line of business, you've got about one sentence to grab your readers and keep them interested in what you are talking about. So, for the sake of keeping your eyeballs glued to this blog post, let's just say that the rest of this article will be about turning you into a charismatic, compelling, and popular wedding officiant because guess what... It is!
It's all about getting folks hooked, and keeping them interested!
When writing a wedding ceremony, the way that you start the ceremony and end the ceremony are both very important.
In fact, the opening words are the most critical part of the ceremony, since they are what grab the guests' attention and pull them into the ceremony. Botch this part, and you'll be dealing with folks nodding off… checking their phones… daydreaming…
Think about your opening lines like an amazing scene at the start of a movie or TV show… after it, you are paying attention and wanting to find out more.
Of course you want to know more!
If you don't grab them with the opening words, you are losing the golden opportunity to both capture everyone's attention and start the ceremony with a tone and sentiment that reflects the couple. Personally, I have some favorite words that I use, but with some couples I mix it up and will start the ceremony with a quote or a short piece that really fits the couple.
Your closing words are also important, since they bring everything together. In the case of a wedding ceremony, they should reiterate the sentiment of the opening words.
For example, if the opening is discussing the importance of supporting each other in a marriage, then the closing should reflect the same thing… of course always using "positive" words and phrases.
Create opening words that draw people in, and send the message right away on how the couple sees or feels about marriage, and echo the same sentiment and tone in the closing, and you are well on your way to creating a great wedding ceremony.
And if you want to dig a little deeper into opening and closing remarks, and ways to create a legendary wedding ceremony, you'll want to grab a copy of our popular guide to ceremony writing and delivery: Asked to Officiate. We've got chapters dedicated to this stuff, and if you have any reservations about officiating, this book will dispell them!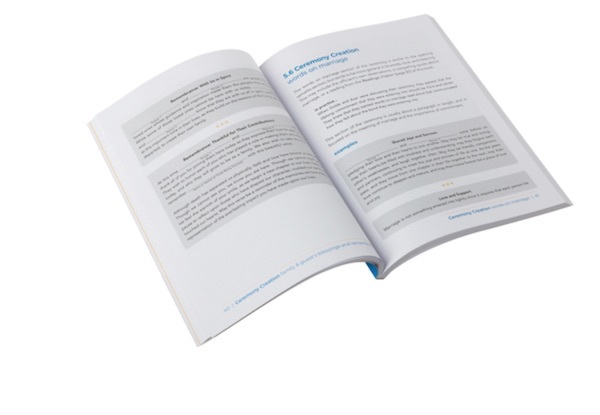 Asked to Officiate, the definitive guide to writing and delivering wedding ceremonies!
◀︎ Previous Article: Good News Alert: Virginia Counties Remove Racis...
Next Article: Did I Just Say That? -- 3 Ways to Handle Weddin... ▶